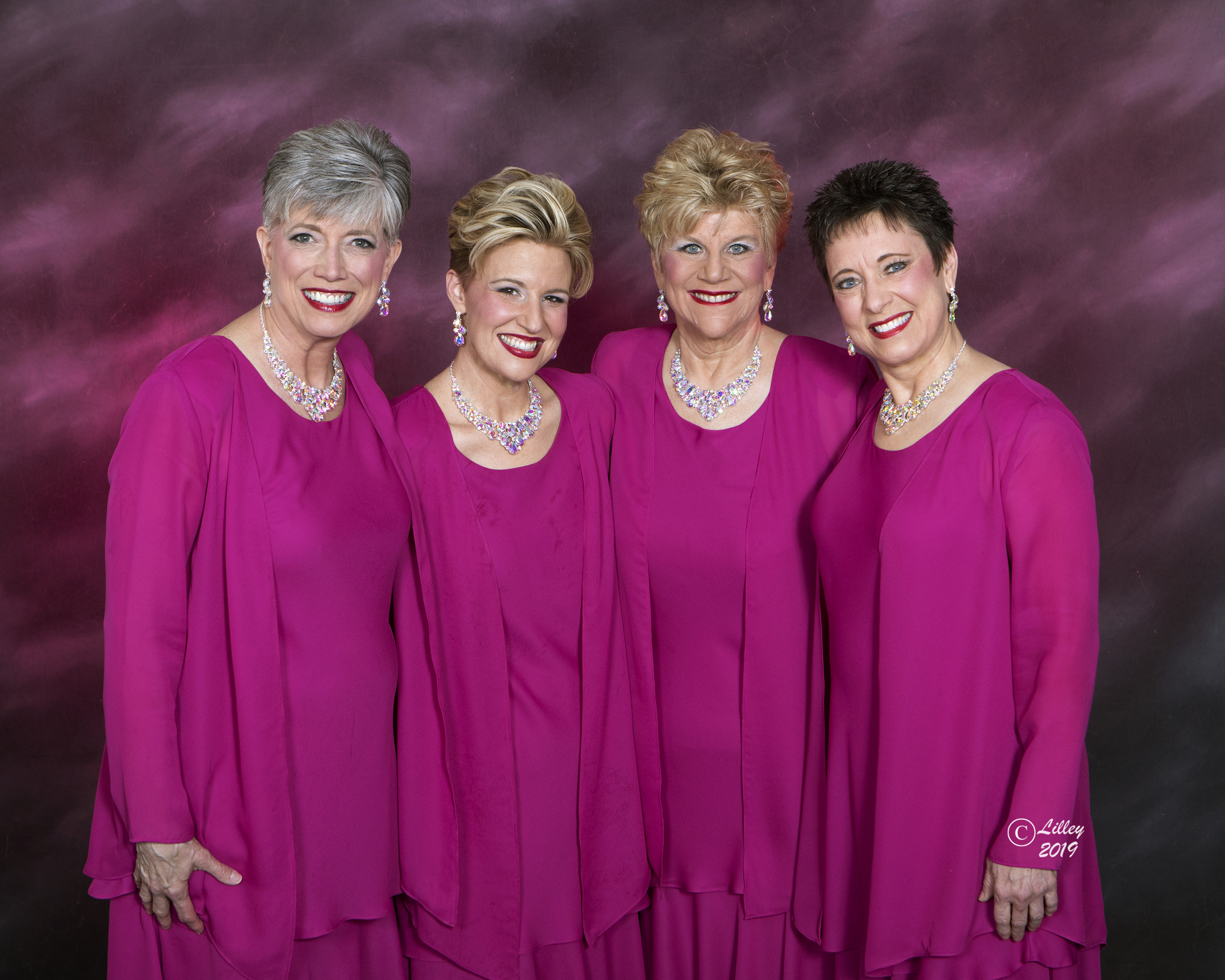 Michigan, Ohio, Pennsylvania
Surefire Quartet
Great Lakes Harmony Region 17 - 2015 Quartet Champions
Surefire Quartet formed in 2013 and quickly decided that five hundred miles of travel was a walk in the park for four quartet-savvy women who really, REALLY wanted to sing together.  Their journey has been remarkable, capturing the prize as Regional quartet champions in 2015… and capturing the hearts of the entire Region as well. Other awards include:
2019 Region 17 3rd Place Quartet
2018 Region 17 2nd Place Quartet & International Wildcard Competitior
2017 2nd Place Quartet - Regioni 17
2016 4th Place Quartet - Region 17
2015 1st Place Quartet.- Region 17
Lead Sara Clevenger joined Sweet Adelines at the age of 14 and soon became the youngest quartet medalist in the history of Region 2 (Michigan/southern Ontario) singing with mom Lynne in Fandangle quartet.  Sara is a respected musical leader in  the Greater Harmony Chorus (Pittsburgh, PA area). She is also a graduate of fine arts from the University of Tampa, Florida, and is directing manager at Blue River Financial Group, Pittsburgh.
Bass Lynne Peirce directs the award-winning Battle Creek Chorus in Battle Creek, Michigan and also directed the Voices in Harmony Chorus, Ypsilanti, MI  for thirteen years before coming to BCC.  A Sweet Adeline since 1985, Lynne sang bass in the 1991 and 1993 Region 2 championship quartet Accolade, sings with the Swing Sisters quartet and has delighted audiences for the past fifteen years with comedy quartet Novelty Shop.  Lynne is a retired organizational development specialist at the University of Michigan Health System.
Baritone Lisa Beckett earned her first blue ribbon singing lead in Sigh-tations in 1983.  A Sweet Adeline since 1976, Lisa has been a musical leader in several choruses and is a popular coach.  She currently sings with the Greater Harmony Chorus in Pittsburgh, Pennsylvania.  She was the gold-medal baritone with BLAK Velvet, Region 17 2006, 2008 and 2010 championship quartet.   Lisa works in logistics at Nord-Lock, Superbolt Inc. and lives in Monaca, Pennsylvania.
Tenor Dawn Seigneur is the musical director of the River Raisin Chorus in Monroe, Michigan.  Dawn sang tenor in In Voice, 2008 and 2009 quartet champions of Border Lakes Region 2.  Dawn works as a physical therapist in Toledo, Ohio.   In her hometown of Delta, Ohio, she is a Yoga and Tai Chi Instructor at Sukha Yoga (sukhayoga.weebly.com) and shares her life with a collection of rescue kitties.
Surefire reflects a remarkable journey of experiences and miles well-traveled.  We know you will find the unique and exciting blend of voices, hearts and spirits an unforgettable combination!
Contact: Lynne Peirce, [email protected]  or 734-668-8040
Rehearsals
There are no featured events at this time! Feature some by checking the Featured Event box on the event edit screen.