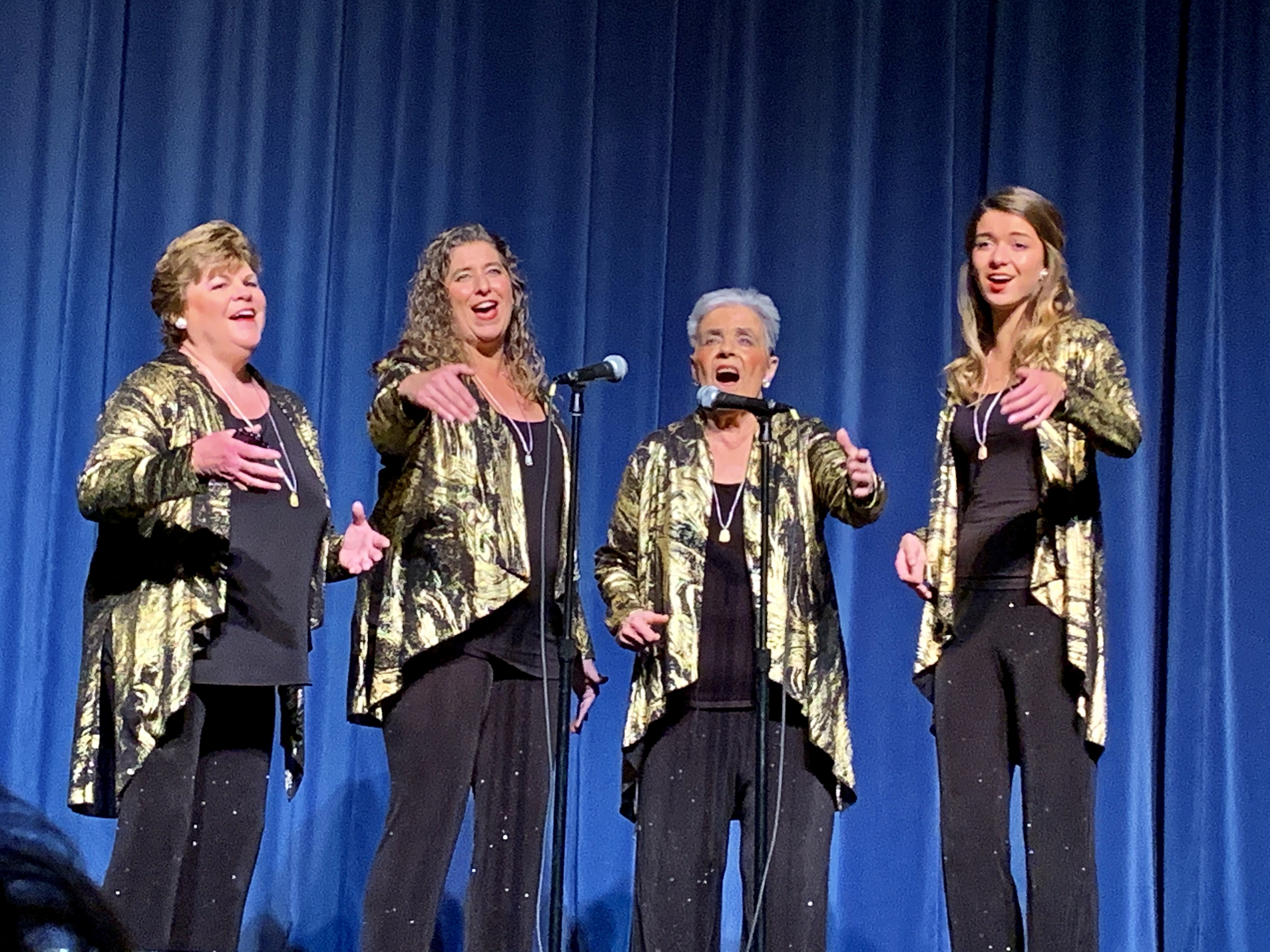 Spirit Quartet formed in the spring of 2015 out of friendship, a love for barbershop harmony and a need for an opportunity for the youngest member, Gracie to experience more quartet singing. All members of The Battle Creek Chorus(BCC)(Battle Creek, Mi.), the four women bring a unique "Spirit" of family and sisterhood to the forefront of their musical relationship. Not to mention  incredible talent that includes two certified directors and two section leaders of the chorus. The  quartet boasts a mother and daughter duo, and "family" like relationships among the other members, which creates a magical blend of spirit in harmony. Spirit is appropriately named for this dynamic and entertaining quartet of experienced singers.
Lead Nikki Barnett (Mother to Gracie Barnett) joined Sweet Adelines in 1999 and quickly fell in love with Barbershop Harmony. She comes from a classical background, singing through high school in  many honors choirs, musical theater productions, and solo and ensemble competitions. She toured 
through Europe with Blue Lake FIne Arts Camp, completed her senior year of high school at Interlochen Arts Academy, and studied vocal music and music therapy at Western Michigan University. She recently graduated from WMU with a Bachelor's degree in Child and Family Development and 
continues to own and operate Shining Star Child Care in Paw Paw, Mi. as she has done for the last 20 years. Singing has always been Nikki's biggest passion and singing four part acapella harmony in the Barbershop style creates a constant learning challenge, while quartet singing keeps her true passion alive. Nikki is the current choreography chair person, and serves on the board of directors. Nikki's husband, Tom and son, Noah love supporting Nikki and Gracie's (Tenor) barbershopharmony hobby.
Bass Julie Zehnder has been a member of Sweet Adelines International for 54 years and has recently retired from directing the Battle Creek Chorus after 38 years of fulfilling, award-winning harmony.. Along with singing first with the Kalamazoo Chorus, she has sung with many quartets throughout the years. Julie has held many regional positions including Regent and her current position as the Director's Liaison of Region 17. She also held a Sweet Adelines International position for 7 years in Region 3 as Director of Musical Activities. Julie continues to sing Bass in BCC, serves as an associate director, the bass section leader, and adds so much talent and experience in quartet singing. BCC has been her family and her passion for what seems like a lifetime, in addition to her successful teaching career for 36 years. Her many years of entertaining audiences with comedy, quartet singing, and chorus directing makes her an invaluable part of the sisterhood of Spirit.
Baritone Marilyn Kidd joined Sweet Adelines in 1990 with her mother, to join a unique organization of four part acapella female singers. She found a way not only to bond with her mother, but found out that this organization builds wonderful bonds and relationships in sisterhood through music. Marilyn brings a lifetime of musical talent to the organization that includes choral singing, piano playing and various other musical productions. This musical talent quickly found her being invited to become a certified director in the organization, and she served as a front line director for the Mid-Lakes Chorus for several years. Marilyn continues to serve the chorus as an associate director, the baritone section leader, the costume chair person, and serves on the BCC board of directors. She is also no stranger to quartet singing. She has been in chapter quartets and in regional competing quartets for many years. Marilyn enjoys her family time at home with husband, Mike, Golden Retriever, Zeus, and three grown sons.
Tenor Gracie Barnett joined Sweet Adelines at the age of 14, in 2015. Gracie has been around barbershop harmony all of her life, going to quartet rehearsals as an infant, with her mom, Nikki and singing the tone of the pitch pipe at 8 months old. Gracie performed in her first quartet when she was 9 years old, and has been involved with Young Women in Harmony ever since. Gracie has sung  both lead and baritone, but her angelic voice really shines in the tenor part. Gracie also sings in the Kalamazoo Children's Chorus where she has been trained in classical choral singing since she was 8 years old. She is a junior at Mattawan High School where she has participated in the talent show and musical theater production of Beauty and the Beast. She is interested in studying athletic training and physical therapy or political science and constitutional law beyond high school.
Awards and Achievements:
3rd Place - Caroling at the Creek - Battle Creek, MI International Festival of LIghts